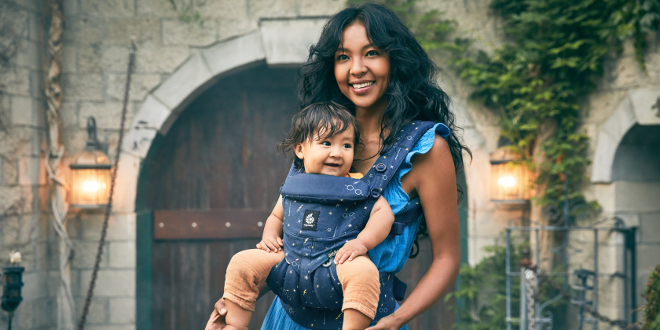 Ergobaby Announces Limited-Edition Collection of "Harry Potter"-Inspired Baby Carriers
ERGOBABY ANNOUNCES LIMITED[-]EDITION
HARRY POTTER-INSPIRED BABY CARRIER COLLECTION
The Lumos Maxima [c]ollection Will Include the Ergobaby Omni 360, Aura Wrap and Doll Carrier
Los Angeles, CA – JULY 23, 2020 – Ergobaby®, the award-winning maker of ergonomic baby carriers, together with Warner Bros. Consumer Products announce the first-ever baby carrier collaboration featuring prints inspired by the beloved Harry Potter film series. The first collection, Lumos Maxima, features a whimsical and magical print inspired by the characters, symbols and spells from the Wizarding World. The bespoke patterns will be available for some of Ergobaby's most popular products, including the Omni 360, [the] Aura Wrap and the Ergobaby Doll Carrier. This limited-edition collection is sure to delight fans of all ages and inspire the next generation of creative dreamers.
The Ergobaby x Harry Potter collection was designed to capture the imaginations of Harry Potter fans, who want to share the magic of the Wizarding World with their own children.
The Lumos Maxima print features iconic symbols such as Harry Potter's glasses, lightning bolt, and wand, as well as the Deathly Hallows emblem. The design includes these illustrations in pops of yellow, white and pale blue on a navy canvas background.
The Ergobaby OMNI 360 is an all-in-one baby carrier, designed for superior baby and parent comfort, as well as exceptional ease of use. Small but thoughtful design details include Harry's glasses and lightning bolt embroidered on the head support of the Omni 360 carrier. As Ergobaby's most versatile carrier, it offers all carry positions, enabling the parent to quickly switch baby to face out or face towards the parent with ease. The OMNI 360 Baby Carrier adjusts from newborn to toddler (7-45lbs).
The Aura Wrap Carrier is also included in the Lumos Maxima print. The same illustrations, including Harry Potter's glasses, lightning bolt, [and] wand and [the] Deathly Hallows emblem, but in a [n]avy print on [a] lighter blue base color. The Aura Wrap is a lightweight, breathable wrap that is supportive for extended wear and easy to tie. It can be used from birth through 25 lbs and folds compactly into [an] integrated pocket for easy storage on the go.
The Ergobaby Doll Carrier is a playful addition to the collection, designed to match the Omni 360 carrier and perfect for allowing older siblings to join in the magic of baby wearing [sic] by toting dolls or other toy friends.
The Ergobaby Limited[-]Edition Harry Potter Collection will be available in the US and Canada, on-line at Ergobaby.com, BuyBuyBaby, Amazon.com and specialty retail accounts. Pre-sale of the collection begins July 23, 2020, with the official on[-]sale date as August 6, 2020.
The OMNI 360 Carrier has [an] MSRP of $180, [t]he Aura Wrap MSRP is $50 and the Doll Carrier will be available for [an] MSRP of $25. Ergobaby® is a registered trademark of [t]he ERGO Baby Carrier, Inc. and its affiliates.